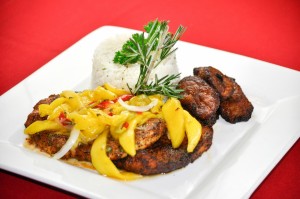 Jamaican food is by far the most well-known and popular (at least in North America) of the Caribbean sub-cuisines. While there are more than seven others, including the seafood-rich Aruba food, the simple Haitian cuisine, and the spicy, flavorful Barbadian food, traditional Jamaican dishes are the first that come to mind when someone mentions "Caribbean food." At Chef Rob's Caribbean Cafe in Sandy Springs, we have perfected Jamaican food in a way that keeps our customers coming back for more, time and time again.
Why You Love Jamaican Food
---
Early Influences
The Spanish were among the first Europeans to settle Jamaica, bringing with them vinegary blends and spicy seasonings.
The English came next, adding their spiced meats to the local menus.
After the English came both the Chinese and Indian cultures, which brought Jamaican cuisine to life with curry and other spicy flavors.
Traditional Jamaican Dishes
Jamaican food is definitely island fare, combining the sweet and spicy flavors that fill Caribbean menus. Jalapenos and pineapple marinades are popular on meats that are heavily seasoned. While the flavor is familiar to many, Jamaican food is most sought after for a few key dishes.
Authentic Jerk Chicken
Jerk seasoning is used on pork and fish as well, but it is most popularly featured on chicken, and is by far the most sought after Jamaican (or Caribbean) dish. The meat is marinated with insanely hot peppers, allspice, thyme, and nutmeg and is traditionally served with sweetly spicy sauce, rice and peas, and authentic festival bread.
Jamaican Patties
Coming from the English influence, the Jamaican pattie features a croissant-like bread filled with spicy meat or spiced vegetables.
Curried Goat
From the Indian influence, this dish is often featured at parties or festivals, and features the hot Indian spice with goat and served with Jamaican rice.
Ackee and Saltfish
This dish, particularly ackee and codfish, is considered the national dish of Jamaica. Ackee is a type of fruit that, when cooked, resembles scrambled eggs, making this dish an island favorite for breakfast.
At Chef Rob's Caribbean Cafe, we are passionate about Caribbean cuisine, especially Jamaican food, and we provide you with all of these traditional dishes, and more, in an upscale atmosphere you won't want to leave. Make your reservation today and take your palate on an island adventure, or contact our team about our catering options!